Safety Standdown Insight:
Jermaine Cadogan shares his perspective as an aviation technician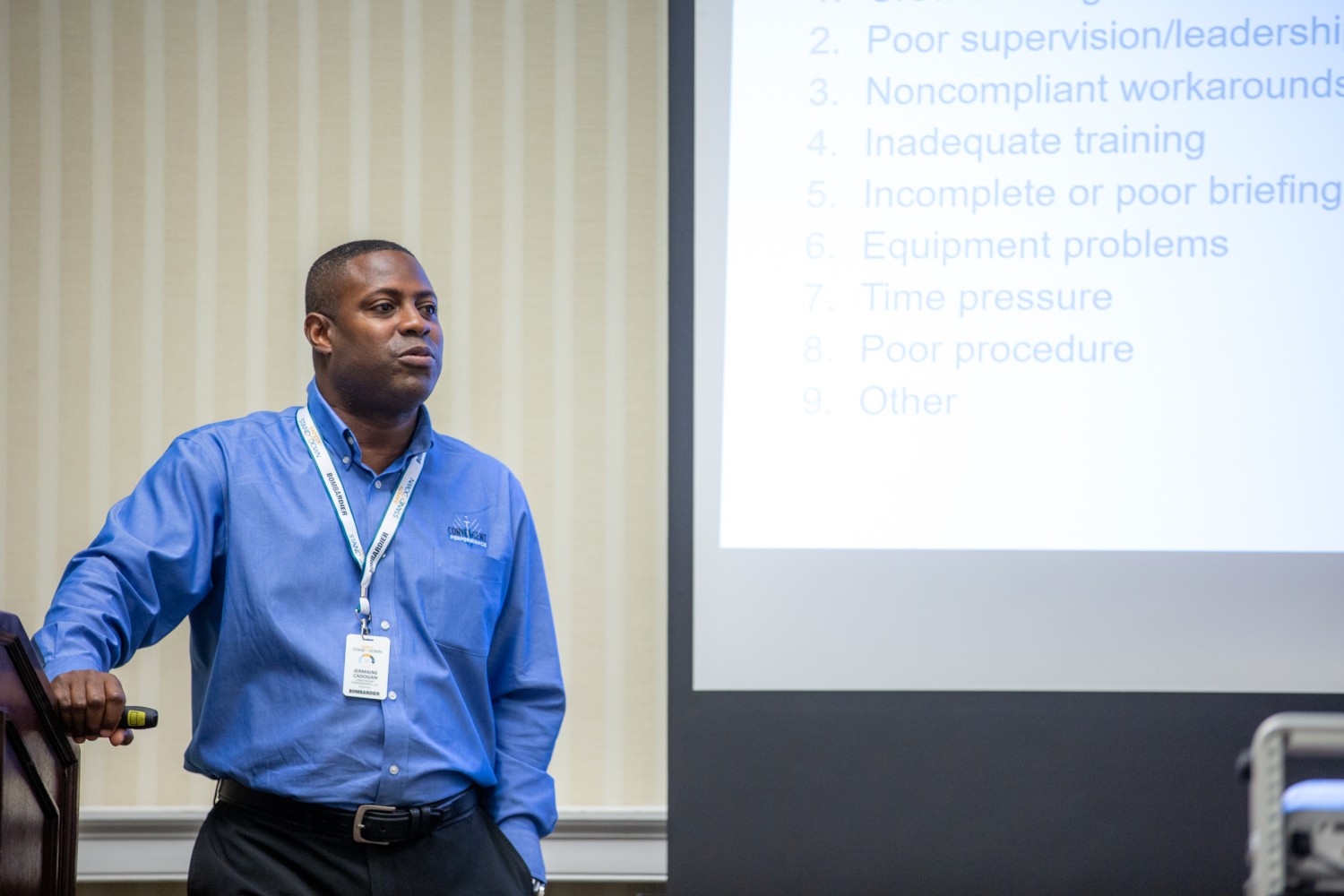 We checked in with recent workshop presenter, Jermaine Cadogan, to get his take on this very important safety event. So, how does a retired Marine Corps major who started his career as an aviation ordnance technician and transitioned to an aviation ordnance officer end up teaching a workshop at Bombardier Safety Standdown? Read his story directly from Jermaine:
Well, I have always had a passion for aviation. Although I never had a real desire to fly myself, I was always interested in what made aircraft tick and how I could fix them. And fortunately, the Marine Corps offered me the opportunity to maintain aircraft while serving my country as well
However, it was a mishap very early on in my career that set me on the path of aviation safety. As I mentioned, I was an aviation ordnanceman by trade. Basically, I loaded munitions on aircraft and maintained the weapon systems on the aircraft. After only two weeks at the squadron, I was tasked to perform an electrical check of the jettison system.
This system is designed to release anything loaded on the aircraft in the event of an emergency. The first thing you are required to do, prior to applying power, is remove all explosive devices from the aircraft. Being a "wet behind the ears" maintainer, I failed to do this. While performing the check, I was wrongly positioned next to a 77-gallon fuel pod that was completely full and had an explosive device installed. When the system was energized, the explosive device went off, but the pod did not eject because the mechanical lock was engaged. If it weren't for that lock, I would have been crushed and not be here sharing this story.
After this incident, my supervisor stood me in front of the rest of the Marines in the shop and said, "Take a good look at him because we almost lost him last night." Ever since this moment, I vowed to never be in this position again. I would be a student of my craft not only for my benefit, but also for the Marines that I would train and eventually lead as a Marine Corps officer. I continued to do this for 24 years before I retired.
Right before retirement, I was introduced to a company called Convergent Performance and was very impressed with what they taught and represented. I knew I wanted to get involved with the team. I was hired in July 2021 and have been with them ever since. So, this is how a retired Marine ends up in a room full of aviation professionals.
Bombardier Safety Standdown 2021 was the first time I have attended this kind of event. At first, I didn't feel I belonged because I did not have a background in business aviation, and I wasn't a pilot. However, after sitting through the first couple of presentations, I quickly realized that I did belong and had something to gain from the information being presented.
I also thought that in addition to the pilots in attendance, it would be great to have a greater representation of safety managers and aircraft maintenance technicians like myself. These professionals could not only benefit from the message, but with both pilots and maintainers in the room together, it would be an opportunity to enhance this key relationship.
I personally learned a lot from the presenters at Safety Standdown and I would strongly recommend the event to anyone in the industry. I intend to be in attendance for years to come!